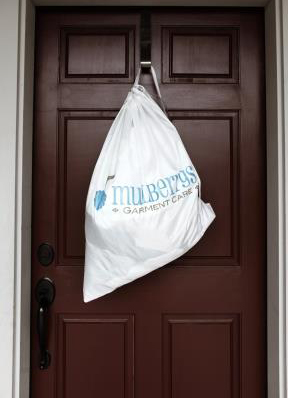 Free Pickup & Delivery
50% Off
Schedule Service
New Store Customers
Save 25% Off Now
Toxin-free Dry Cleaners
Mulberrys is the only dry cleaners in Minnesota to use a toxin-free liquid CO2 based dry cleaning process. Our dry cleaners also use the most environmentally friendly dry cleaning and laundry detergents available on the market. Not only that, Mulberrys' dry cleaners package your clothing in recycled wood hangers and biodegradable dry cleaning bags. This commitment to our natural environment separates us from other dry cleaners and has earned us the title of best green dry cleaners in the State of Minnesota.
Award Winning Dry Cleaners
Mulberrys has the highest commitment to dry cleaning quality of any dry cleaners in Minnesota. Our expert dry cleaning technicians have won numerous awards for best dry cleaners in the Twin Cities as well as the prestigious Award of Excellence for dry cleaners. No other dry cleaners has the depth of dry cleaning knowledge, experience, and skill as Mulberrys dry cleaners. Voted Best Dry Cleaner in Minnesota!
Convenient Dry Cleaners
We strive to make our dry cleaners the most convenient dry cleaners in Minnesota. Whether you use our home delivery dry cleaning service or visit our Minneapolis, St. Louis Park, Edina, Eagan, or Minnetonka dry cleaners you will be amazed by the convenience of your dry cleaning experience. We offer free dry cleaning delivery to your home or office, and our dry cleaning stores are open late on weeknights and on Sundays. We offer drive-thru dry cleaning service at our St. Louis Park, Eagan, and Ridgedale locations, and a 24 hour dry cleaning drop box if you decide to visit our dry cleaners after hours.